News
Oiconomy Pricing Lab proposal submitted to NWA ORC 2022
We just submitted a ground-breaking research proposal to the National Science Agenda (NWA) call for research consortia of NWO. Together with 24 partners, Utrecht University created a transdisciplinary Community of Practice: the Oiconomy Pricing Lab.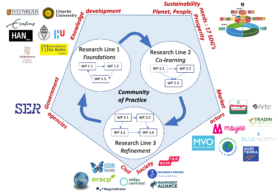 It includes frontrunning companies applying Oiconomy Pricing, various business networks, sustainability consultants, civil society organisations and academic partners and universities of applied sciences. Results will feed into policy advises with the participation of government agencies. The frontrunning companies, including Verstegen Species, Arte, Moyee Coffee, Tradin Organic and ASN Bank are amongst the first working with our new approach. We all know that prices paid in shops for products do not express the full costs. The environmental and social damages caused during the production, often in a global production chain, are mostly ignored. The Oiconomy Pricing Lab develops and tests the method to measure the level of sustainability by calculating the costs for preventing these damages.
MVO Nederland, Sustainability University Foundation and Fair Wear Foundation will be the platform for their member companies to exchange experiences with Oiconomy Pricing. Research on these experiences and further refinement of the method will be conducted by Utrecht University, Radboud University, Nyenrode Business University, Erasmus University Rotterdam, Hogeschool Arnhem Nijmegen and Hogeschool Utrecht. The research focuses on comparing different types of monetisation approaches, identifying businesses' requirements for successfully applying of such assessments, consumer communication and improvements to the methodology itself.
We do this in close collaboration with the key stakeholders involved. In the Netherlands these include Rainforest Alliance, WageIndicator Foundation, Milieu Centraal, and Oiconomy Pricing Foundation. Measuring the full costs of products almost always leads us to suppliers in the Global South. Therefore there is also strong representation of partners abroad, including Universidad de los Andes (Bogota, Colombia), Stellenbosch University (South Africa), Agriterra (active in Africa and Asia), Blue North (South Africa) and Global Network of Sustainable Development (partners in India). With its open science approach, the Oiconomy Pricing Lab will disseminate the methodology in two renowned international academic networks, the International Sustainable Development Research Society and the European Roundtable on Sustainable Consumption and Production. The policy implications will be elaborated with the Dutch Social-economic Council (SER), advising the Dutch government.
In the light of recent national and international regulatory developments on due diligence in supply chain management, monetisation of negative externalities has increased in importance for scientists and market players alike. With Oiconomy Pricing we provide companies the means to collaborate with their value chain partners and jointly mitigate issues identified. The recent political and public debate  about new Dutch legislation on due diligence in the supply chain once more underlines the need for what we are pursuing. Some industries are now actively creating opposition against this new legislation (see below). Their argumentation, that it is not possible to map out one's supply chain, is clearly outdated, with our approach available. So, don't hesitate to share this message. The long-term goal of the Oiconomy Pricing Lab is, through transparency on hidden costs, to enable companies to improve their supply chain and to create markets that favour sustainable products.